Robert Karlsson: "Wonder how water sounds in Perm"
The AquaSonic project was started by Danish ensemble Between Music in 2008. Formulas like "the concert by underwater musicians" can be taken directly but that's not enough. Innovative ideas, years of preparing, inventing music instruments and training special breathing techniques are in the background of this odd show. As a result, Between Music's compositions actually seem out-of-this-world, those inhabiting another acoustic dimension. So, Danish act keeps making sold-out shows in different countries even now, 10 years later since the band started.
We talked with Robert Karlsson — business director and member of Between Music — about that how to dive into something unknown and, at the same time, familiar looking for aesthetic discoveries.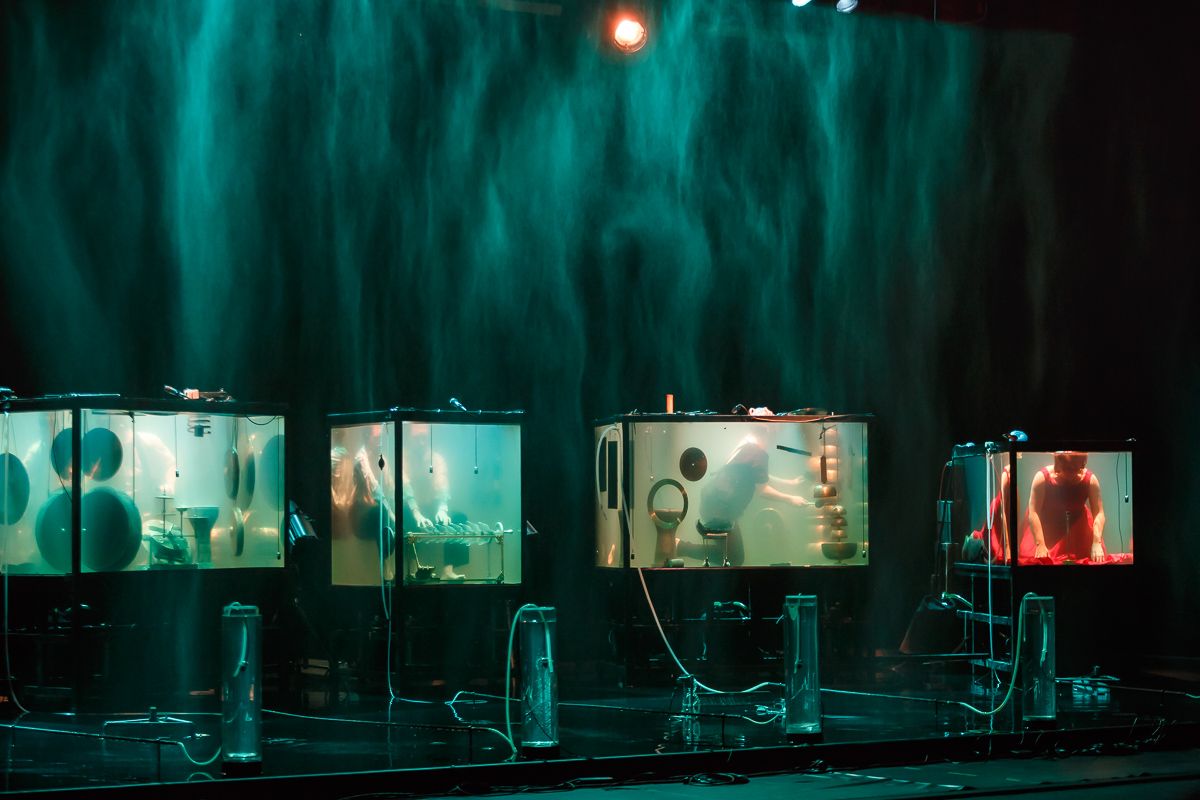 Photos by Edward Tihonov, more photos
— The concert on the Diaghilev Festival will become your first performance in Russia. What do you expect from Perm city and festival audience particularly?
— We're very excited about that. Of course, for us it's far away. We're different people from different cultures and we wonder how local audience will take our performance.
— What technical problems does your team usually face while preparing instruments and equipment on stages in different cities?
— One of the unusual problems we have is water because it's our acoustic [environment]. We have to know what kind of water we have, if it's hard or soft, clean enough or not. We played in Holland and Denmark so sound was different just because of water. It's interesting to find out how water sounds in Perm.
— What specific sounds did you try to reach inventing and developing your instruments including hydraulophone, electromagnetic harp, drum section? How were you processing such an extraordinary aim?
— When we started, there were some things which can easily make sound in water. If you have some heavy percussion, it can produce sound in these conditions. However, we needed not such short, mourning tunes, but something that can sound good in water.
The same was with other instruments. We needed something that can create long notes as a violin does. Guitar, for example, can't do that, it just dies instantly.
So, we needed to create some instruments that can produce necessary harmony and chords. Now we have an instrument with a wheel that touches a string. There're also a glass instrument that also can produce long notes, hydraulophone and others.
It was a mean to feel out space and sound spectrum. We had vocals and deep gongs so we needed to feel out the middle section of the orchestra somehow. That's why we invented several instruments.
— Let me ask about Between Music and AquaSonic brands. It reads on your official site: "AquaSonic is the first part of Between Music's Quadrology Human Evolution (working title); a four-piece work inspired by the human evolution." Anyway, today Between Music is basically associated with AquaSonic show. When and how are you going to continue the Human Evolution project?
— Recently we had very first steps [in this direction]. We had a workshop in Belfast where there's The Sonic Arts Research Centre of Queen's University. We invited different experts including instrument inventors, experts in sonography, visual artists and others to have a brainstorm about where it could go next. So, we had three very intense days to think. We had some frames, of course, but thanks to these different intelligent creative people we create some space to go.
So, it started a little bit through now we're still busy with AquaSonic. We had some rehearsals before Danish premiere, it was quite intense period. We made definite improvements of the performance.
— Is it possible to consider AquaSonic as an artistically conditioned return of the human to his evolutionary roots, to water environment where life on the Earth initially came from?
— Yes, somehow, because life started in water. We started in water evolutionary but also keep starting now as babies. It's environment we all are familiar with. Of course, putting live music into water is something that haven't been done much. We combine something people know and something unknown.
— In AquaSonic you explore water environment musically. Instruments and voices actually sound different in these conditions compared to conventional ones. Haven't these aesthetics become natural for you yet? Something you now feel really close to?
— Of course, it took us long time to investigate this element musically and professionally. We've already been doing it for 10 years but there're still some things to investigate. There're so many challenges with this element so we still learn.
— How did people react when you were conducting your first shows?
— Very well, it was amazing. People were touched, they were crying. Even if people came to see something extraordinary, interesting, they additionally got something really touching. Nobody expected this. It was very warm reaction from the audience.
— It seems that Scandinavian artists tend to be more open for something new, experimental and even provocative. Can your share this opinion?
— Yes, in Scandinavia we have very good art supporting system provided by state and municipalities. Of course, we couldn't do this project without state support. In these funds people who decide who get money are artists themselves hired by the state.
Private funds have only business people. It'd been hard to get money for this project from private funds. In that term, I think, Scandinavia is the place where you can see the future in experimental art, its potential.
— Could you tell a bit about musical background of each Between Music member?
— As for myself, I'm a professional classically educated violist, I also play in the symphony orchestras. Laila Skovmand, artistic director, is a singer and composer, not classical, more in pop-rock, jazz. Drummer Morten Poulsen is an educated jazz drummer, Dea Maria Kjeldsen is a percussion player, also in pop-rock, jazz department. Nanna Bech is educated as a singer-songwriter. So, all members have academic musical background.
— Do you consider yourself as artists of a principally new type – underwater musicians?
— Yes, I expect, it can be a new genre other bands can come up to later. It's quite interesting.
Pavel Kataev, press-office of the Diaghilev Festival